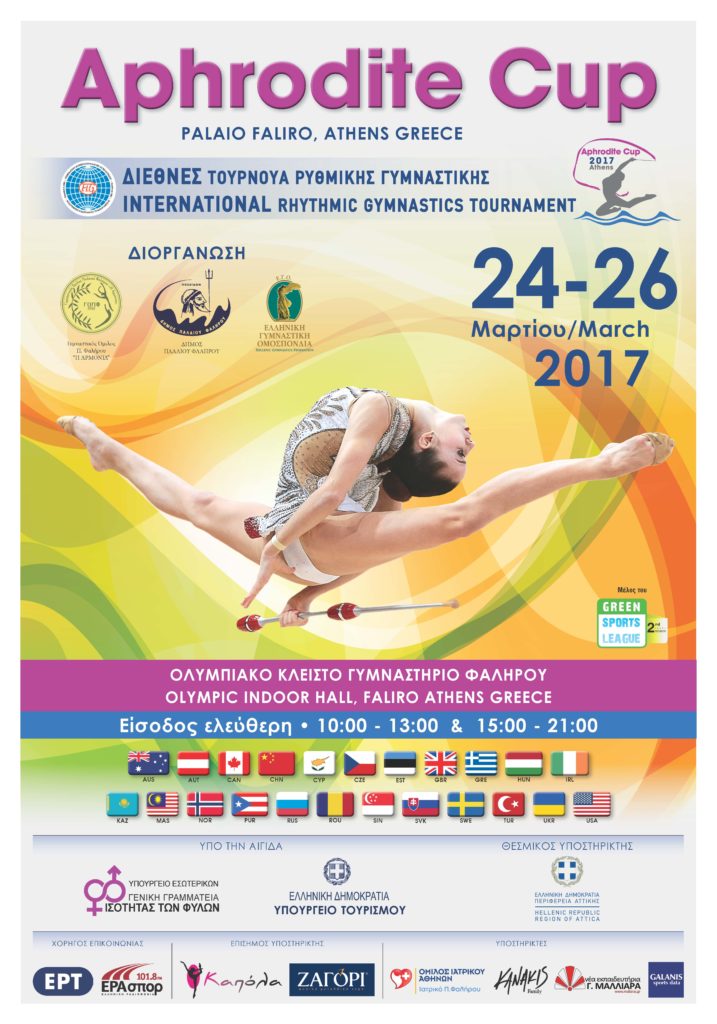 Welcome to the webpage of the International Rhythmic Gymnastics Tournament Aphrodite Cup 2017.
In 2017 Aphrodite Cup  will host  junior competitions (13-15 years), senior competitions (16 years up) and group seniors and group juniors  competitions.
The tournament will take place place in Palaio Faliro Olympic Indoor Hall TAEKWONDO on Friday 24 to Sunday 26 March and it will be livestreamed online.
In this webpage you can find all the information about the tournament.
For additional information, photos and videos, please visit Aphrodite Cup's FB page
---
Volunteers please complete the electronic Volunteer Registration Form 
---
Aphrodite Cup 2017 FIG website  & Registration forms_FIG Competition

Aphrodite Cup 2017 International Tournament for Individuals Invitation_NON FIG Competition
Aphrodite Cup 2017 International Tournament for Individuals Registration Forms_NON FIG Competition
---
---
Provisional General Schedule (Vs2.0_17.02.2017)
---
START LISTS     FRIDAY 24 MARCH
NON FIG Juniors Individual      Start Lists     Schedule
NON FIG Seniors Individual      Start Lists     Schedule
Group Juniors                          Start Lists      Schedule
Juniors Individual                     Start Lists      Schedule
Group Seniors                          Start Lists      Schedule
Serniors Individual                    Start Lists      Schedule
---
START LISTS     SATURDAY 25 MARCH
NON FIG Juniors Individual      Start Lists     Schedule
NON FIG Seniors Individual      Start Lists     Schedule
Group Juniors                          Start Lists      Schedule
Juniors Individual                     Start Lists      Schedule
Group Seniors                          Start Lists      Schedule
Serniors Individual                    Start Lists      Schedule
---
RESULTS FRIDAY 24 MARCH
NON-FIG JUNIORS INDIVIDUAL BALL-HOOP
NON FIG SENIORS INDIVIDUAL BALL-HOOP
JUNIOR GROUPS 1st PRESENTATION
SENIOR GROUPS 5 HOOPS
FIG JUNIORS INDIVIDUAL BALL-HOOP
FIG SENIORS INDIVIDUAL BALL-HOOP
---
RESULTS SATURDAY 25 MARCH
NON FIG JUNIORS INDIVIDUAL  RIBBON-CLUBS
NON FIG SENIORS INDIVIDUAL RIBBON-CLUBS
JUNIOR GROUPS 10 CLUBS
JUNIOR GROUPS 10 CLUBS 2nd PRESENTATION
JUNIOR GROUPS 1st + 2nd PRESENTATION
SENIOR GROUPS 3 BALLS 2 ROPES
JUNIORS INDIVIDUAL RIBBON-CLUBS
SENIORS INDIVIDUAL RIBBON-CLUBS
---
RESULTS SUNDAY 26 MARCH
SENIOR GROUPS 3BALLS-2ROPES FINALS